Back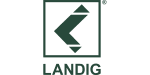 Description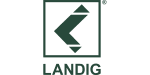 Landig Game Fridge LU 4500®
The LU 4500 LWS-Tronic 4th Gen. game fridge will hold comfortably up to 2 x Roe Deer or 1 x Fallow Deer. If you are lucky enough, 1 x 85kg Wild Boar. With 450 litre capacity and 169.5cm internal height dimension this model would cater for most Stalker's requirements. The latest Turbo System with 35% more power will achieve desired set temperature within approximately 10 minutes. No need to constantly run the unit empty.
Features:
Automatic condensation removal, single stainless steel hanging rail - 100kg maximum load, mains supply 230-240v, lockable door, shelf locators, temp. range -5 to +16 Celsius, energy consumption: 0.6 Kwh/24 h, weight: 85 kg, external dimensions: 192.0 x 60.0 x 67.0 cm, internal dimensions: 169.5 x 50.5 x 49.0 cm. Colour: white.
Free Extra:
1x Landing Stainless Steel Drip Tray.
Delivery surcharge of € 74,50 per unit applies due to bulk of the goods.

* Delivery only available for mainland Germany.
Ordering Information: This product will be ordered from the supplier at the time of your order. It is not in stock.